Become a Friend of the Festival!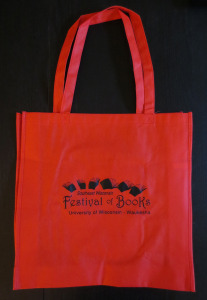 You can help support the Southeast Wisconsin Festival of Books' efforts to promote literacy in Southeast Wisconsin by becoming a Friend of the Festival. Friends of the Festival will receive a red tote bag (pictured to the left) and complimentary ticket to the Authors and Presenters Reception.
Your tax-deductible donation helps defray Festival expenses and has the following benefits:
 Promotes literacy
Celebrates literature and the arts
 Increases awareness of UWW as a learning resource
Supports authors with community exposure
Attracts youth to the potential of the written word
Links reading to current culture and future technology
Provides intergenerational learning in an affordable, public event
Membership is only $30 per year for an individual and $50 per year for a household. Join by visiting  the UW-Waukesha Foundation booth in the exhibit area or by sending your donation to
Southeast Wisconsin Festival of Books, UW-Waukesha Foundation
1500 N. University Dr.
Waukesha, WI 53188
Or, you can donate online: Donate Online.
For questions about donations please e-mail the UW-Waukesha Foundation at wakfoundation@uwc.edu.