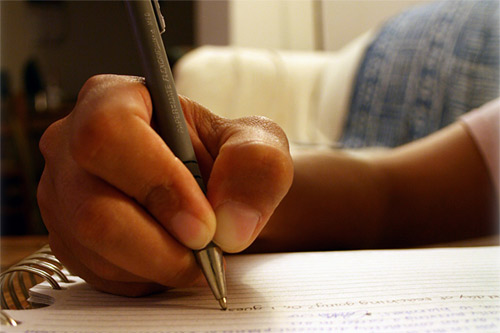 Middle and high school students can win cash prizes for their essays about the 2015 Southeast Wisconsin Festival of Books theme, "Words for a Lifetime." This year's Festival will bring more than 75 authors to the University of Wisconsin-Waukesha on November 7-8 for talks, readings, panel discussions, interviews, book sales and signings. The Festival is free and open to the public.
To compete, students are asked to write about their reading experience and describe how they have taken risks and reaped rewards through reading. The Century Fence Student Essay Contest awards $1,000 in cash prizes to middle and high school . First, second and third places are awarded in both the middle and high school divisions of the contest.
Prizes: 1st place – $250; 2nd place – $175; 3rd place – $75
Official presentation of the awards will be made at the authors' reception at 4:15 PM the evening of Friday, November 7. Winners must be able to appear at the authors' reception to accept their awards. In addition, first place winners must be available to read their essays.
---
Essay Prompt
Words for  Lifetime
Words are powerful; they can inspire, motivate and change the world. Inspired by the many authors who have made an indelible impression on our lives with their words, the Southeast Wisconsin Festival of Book organizers have chosen "Words for a Lifetime" as the theme for the 2015 event.
In your essay discuss the questions:
What does this theme mean to you?
What specific words from authors have inspired you or touched your life for better or worse in some way and why?
---
 Contest Guidelines
Contest entries should be thoughtful, well written essays of 600-750 words on the assigned topic for high school students and up to 400-500 words for middle school students. Entries should be single spaced and may be typed or legibly hand written.
Submissions must be of unpublished original work. An essay that has won a contest elsewhere will not be accepted.
Entries should reflect the original words and ideas of the writer. Quotations from an outside source or author must give be credit to that source by citing the author, publication, title and date. Plagiarism will be considered cause for elimination.
To be eligible, each entry must be accompanied by the official Festival Contest Entry Form. This form must be filled out completely and signed both by the student and a parent or guardian. By completing and signing the entry form, a student certifies that it his or her own work. Please submit only one essay. Multiple entries will not be considered.
All essays must be accompanied by a completed entry form.
All entries must be received by September 14, 2015. Entries should be mailed to the following address:
Festival Essays
Attn: Southeast Wisconsin Festival of Books Coordinator
UW-Waukesha Foundation, Inc.
1500 N. University Dr.
Waukesha, WI 53188
---
Entry Form