Lowder Kicks off Festival and Lecture Series
Author James Lowder kicks off the Southeast Wisconsin Festival of Books on the University of Wisconsin-Waukesha campus as part of the 2013-14 Visions and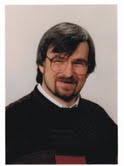 Expressions Lecture Series. He will speak at noon on Thursday, Sept. 19 with his talk "'Game of Thrones' and the Triumph of Fantasy."
The event is free and open to the public, and free parking is available during the lecture. UW-Waukesha is located at 1500 N. University Drive in Waukesha.
Lowder will again appear on Saturday, Sept. 21 and Sunday, Sept. 22.
Lowder said his  lecture will look at George R.R. Martin's "Game of Thrones" and the "A Song of Ice and Fire" series "moving beyond the interest of genre readers to mass market audiences and success, what that says about the books and HBO series, and what it suggests about the place of fantasy in popular culture."
A Massachusetts native now living in the Milwaukee area, Lowder has worked extensively on both sides of the editorial blotter. As a writer, his publications include the bestselling, widely translated dark fantasy novels Prince of Lies and Knight of the Black Rose, short fiction for such anthologies as Shadows Over Baker Street and The Repentant, and comic book scripts for Image, DC, and Moonstone. He's written roleplaying game products and hundreds of feature articles, columns, and film and book reviews.
As an editor, Lowder has directed book lines and series and has helmed such critically acclaimed anthologies as Hobby Games: The 100 Best, Curse of the Full Moon, the Books of Flesh trilogy, and Beyond the Wall: Exploring George R.R. Martin's A Song of Ice and Fire. Beyond the Wall explores Martin's Game of Thrones, both the popular HBO series and the fantasy novels upon which it is based. His work has been nominated for the International Horror Guild Award and the Stoker Award, and has received five Origins Awards and an ENnie Award. For additional information, check out his web site: www.jameslowder.com.