Windy Hill Brass and Larry O. Dean Provide Music for Sunday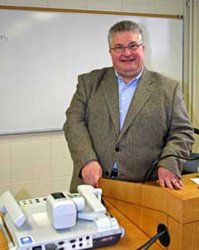 The Windy Hill Brass will perform on the HUB stage on today at 1:30 p.m. Led by Craig Hurst, professor of music, on trumpet and flugelhorn, the group formed several years ago. Members of the quintet have included a mix of students and community residents, and it currently features, along with Hurst, Jan Schultz, horn; David Jensen, trombone; and Brett Meyer, trumpet.
"It's a way to take UW-Waukesha out to the community," said Hurst, who has served as director of bands at the university since 1993.
During performances, in an effort to "give their chops a rest," the group enjoys talking to the audience between songs. Frequently, the conversation centers on what's going on at UW-Waukesha – and not just in the music department.
"I tell them where we are, who we are and what we are," Hurst said.
The band plays nursing homes, farmers markets – and lots of churches. "The brass sounds really good in churches," he said.
The players are simply community members "who love music and love to make it part of their life," Hurst said.